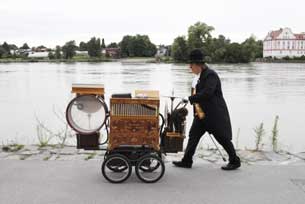 Tischler * Drechsler * Akademischer Kommunikationstrainer * Master of Science in Training and Development (MSc) *
Supervisor * Moderator * 1982-2010: Sekretär für Bildung und Jugend, Gewerkschaft Bau-Holz OÖ * Drehorgelkabarettist
Der Innviertler, Jg. 1953, ist in seinem Umfeld seit jeher als brillanter Fabulierer bekannt. Mit herzerfrischender Erzählkunst, spontaner Kommunikation und kraftvollem innviertler Dialekt, erobert er die Zuhörenden.  1993 kaufte er sich eine Drehorgel und begann damit, Geschichten und Musik zu kombinieren. 
1995 produzierte er sein Kabarettprogramm "Da lacht der Bauarbeiter" und hatte damit zahlreiche Auftritte in ganz Österreich.